| HBTK | 25 | 50 | 100 | 250 | |
| --- | --- | --- | --- | --- | --- |
| Price | C$56.60 | C$55.65 | C$54.68 | C$53.90 | 4C |
Hot beverage tumbler kit.
Soft touch gift box.
20oz vacuum stainless steel tumbler.
Hot cocoa cube.
Tea bag flavors available in Chamomile, Green Tea, Orange Blend and Peppermint.
Coffee pack.
Crinkle Cut Paper available in: French Vanilla, Green, Ivory, Kraft, Light Blue, Lime, Navy, Orange, Purple, Red, Royal Blue, Silver, White and Yellow.
*Please call for available tea flavors
Size:
10 1/2" L x 5 1/2" W x 4 3/4" H
Production Time:
5-7 Business Days
Imprint Area:
3 1/4" W x 8" H (box)
Color Options:
Black, Burgundy, Grey, Navy
Setup Charge: $150(g) gold or silver imprint only on box. Re-Order Setup: $90(g)
Warm Weather Shipping: If this is a meltable item, when the temperature reaches 75 degrees F. we will ship your order in insulated containers with ice packs. The product will remain cool for 2 full days. Expedited shipping is required for locations beyond a 2 day ground ship zone. We will use either refrigerated trucking or insulated cartons. We will select the least expensive method. For insulated cartons, please add $18.00(G) (USD) / $24.30(G) (CAD) per carton. When cost effective, a larger carton can be used please add $30.00(G) (USD) / $40.50(G) (CAD) per carton.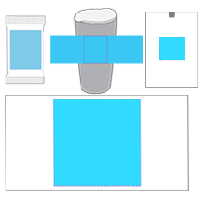 Carton Dimensions:
22x17x17 inches
Ship Wt per Carton:
22 lbs.
FOB Point:
Brampton, ON L6T4W1
Overview
Details
Ordering
Shipping