LANCO – Standard Imprint Colors
These samples are not an exact match.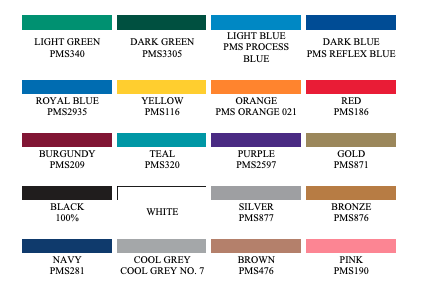 Standard Imprint Colors For Boxes
Red, Blue, Green, Brown, Burgundy, Black, White, Gold and Silver..
PMS Color Match
For PMS color matches other than standard colors add $30(V). Digital imprint cannot be PMS color match.
CHOCOLATE INN – Standard Imprint Colors.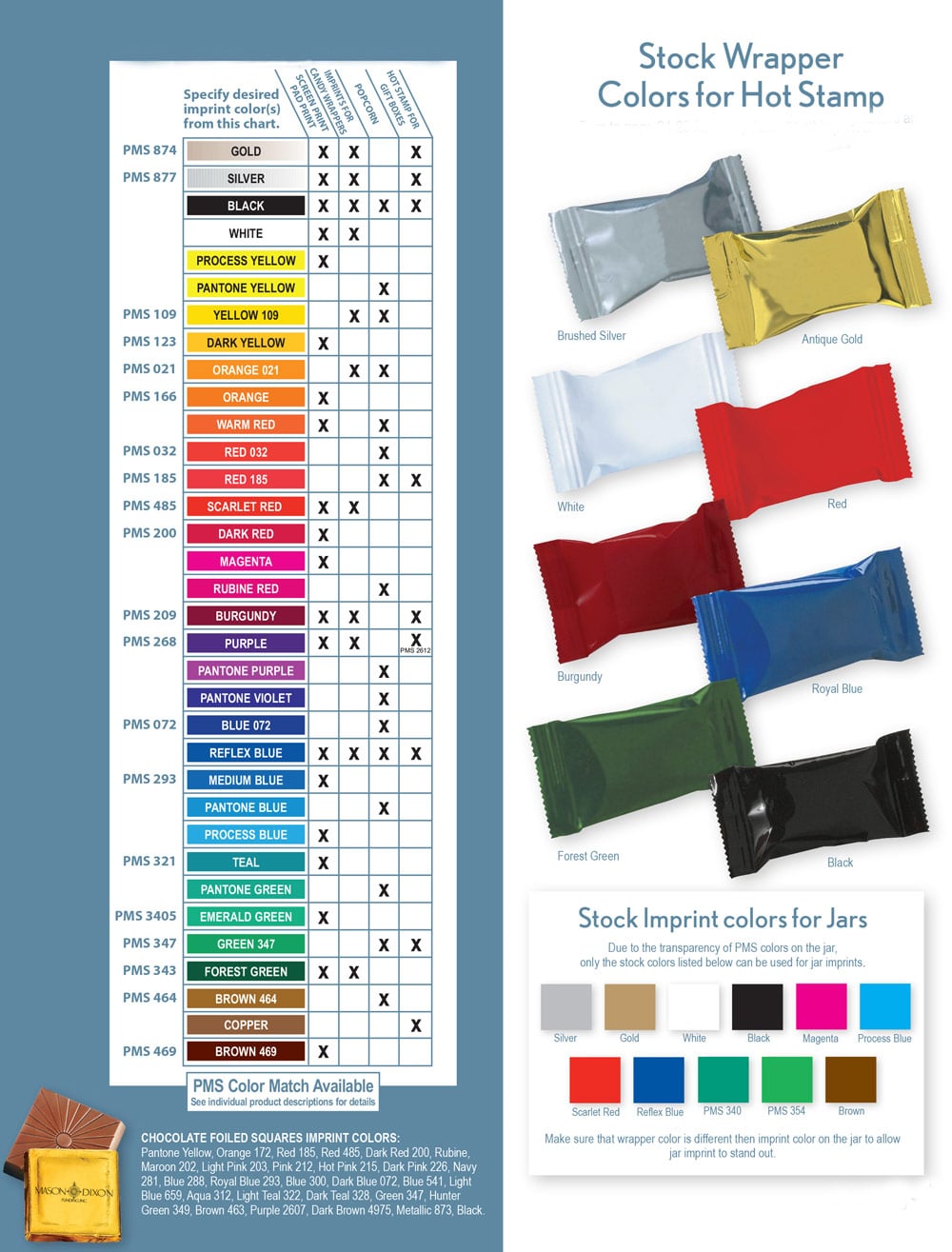 Artwork Requirements
Artwork should be submitted in vector format with all fonts converted to outlines. Please include any additional information which will help process art submissions quickly and accurately. Artwork must always include PO# in the subject of the email and contact information in the body of the email. Orders without correct PO# referenced will be rejected by the factory. We recommend submitting a mockup of the art on the item for comparison. Factory cannot be responsible for errors otherwise. Note: Artwork will be sized to maximum available imprint area unless otherwise specified on Purchase Order.
Acceptable File Size
Artwork up to 10 MB may be sent via email. We recommend wetransfer.com for art files larger than 10 MB
Acceptable Formats
Supply vector-based art for best reproduction with fonts converted to outlines. All text must be converted to outlines and file must be saved as an AI, EPS or PDF files. Non-vectored Photoshop (CC and earlier, 300 dpi at 100% size only) and TIFF (hi res, b/w only) files that are saved as 8-bit CMYK or grayscale can be used for 4 color process printing, 4 color process digital labels, heat transfers and other full color digital applications. Note: we do not accept either Word files or CorelDraw files for art submission. Files supplied for 4 color process printing must be supplied in a CMYK format at 300 dpi at 100% size. For tins requiring a bleed, a minimum of 1/8" is needed saved as a tiff or a hi-res jpeg.
Art Charges
Should your art require manipulation, that requires a charge, you will be contacted with an estimate before any work is done.
An art charge of $50.00 net per hour for recreations, touch-ups and corrections to supplied art will be billed as required.   $25 net minimum charge.
Typesetting
$20(V), includes an art proof.
Submission
To avoid delays please submit the art with the purchase order to orders@lancopromo.com or orders@chocolateinn.net . Please reference your PO number in the subject line of the email.
Art Proof
Art proofs are produced within 48 hours from receipt of a complete purchase order for standard production.  No charge paper proofs will be provided upon request.
Pre-production Sample
$30(V) plus all applicable charges. Upon written approval of the pre-production sample, run charges and a repeat set up charge will apply to the full production order. Pre-Production samples for full color heat transfer order are $206(V).
Following are the specs we require to avoid costs on incoming art:
1
Any type that "knocks-out" (white or lighter letters) of a solid or reverse area should be at least 5 pt. type and sans serif so that it will not fill in on press.
2
Any colors adjacent to each other need to "trap" or overlap for correct registration on press. Traps should be approximately .25pts. or 1/64″. For colors printing next to black, traps can go up to 1/16 " .
3
Paper mechanicals should be on coated or photographic paper from a laser printer or stat camera to make sure image is crisp and does not have jagged edges.
4
Concerning halftones or art with screens:

●      Our maximum screen is 70 lpi.

●      Highlights cannot have less than a 20% dot throughout so that a "hard edge " will not result.

●      Darkest part of screen cannot be more than 50% color or it will fill in on press.

●      If at all possible, substitute washes (or lighter shades of PMS colors) for screens because they print better than
screens.

5
Please always include 1/8" bleed for any full bleed design
6
All mechanicals MUST be prepared with copy at least 1/8″ from the die cut label area on all 4 sides.
7
Art with halftones/tints must be electronic (on disc) since they don' t scan cleanly.
Maximum Imprint Area: The artwork will be enlarged or reduced proportionally to fit the imprint area.
4 Color Process Art Info
Art Guidelines
The following guidelines may be helpful as you prepare electronic files to submit for reproduction. Our pre-press department works in a Macintosh environment. Please check your files carefully as we will not be held responsible for errors when files are not submitted in exact accordance with our specifications. Important! Please pay close attention to the shape of the item you choose, to avoid inappropriate cropping. Also, Please provide color matching materials before we pre-press your art. If your artwork is confined to strict corporate requirements (i.e. color), it is strongly recommended that you request a pre-production sample prior to full completion of your order.
Software
Submit both layered and formatted CMYK Photoshop or Illustrator files. Do not flatten templates or dielines within your file. Doing this will result in an art charge. Add all artwork to NEW layers–DO NOT add your artwork to the same layer that the template dielines are on. Please do not send disc art in Microsoft Word or Excel format. Word processing and spreadsheet programs, such as these, do not work well in our pre-press environment. We cannot accept art created in Microsoft Publisher or slide creation programs such as PowerPoint.
Font
Whenever the application permits, as in Adobe Illustrator, convert type to curves/outlines. Also, remember to outline fonts used in EPS files that are placed/linked in your document. If not included, fonts will be substituted and line breaks may change. If unable to convert fonts when sending files, please provide screen and printer fonts. For Windows based art it is preferable to convert all type to curves/outlines.
Graphics (linked images)
Images should be 200 dpi resolution and saved in CMYK or Grayscale TIFF format without embedded profiles. Convert all RGB files to CMYK. Graphics in EPS format are also acceptable. Digital camera photos or graphics taken from an internet web page should also adhere to these same specifications prior to placement in your document. Files with a resolution of 72ppi at print size will not produce an acceptable print
Color
All Color in your disc art, including graphics and photos, should be in CMYK color space. Blacks should be built w/ values of 75% Cyan / 68% Magenta / 67% Yellow/ 90% Black to achieve a rich black when printed. Convert all PMS colors to CMYK. Exact PMS color match not available. If using white in imprint, please specify. Due to the different substrates (printed surfaces) that we print on and the varying printing processes, the artwork may appear to be inconsistent from one item to the next. We will make every attempt to color correct the artwork file to retain consistency, however limitations will exist.
Good & Bad Artwork
Vector Artwork (acceptable, 300 dpi & up) Sample:

Rasterized Artwork (Unacceptable, under 200 dpi) Sample:

Scaling Artwork
Artwork that is received should only be exact size or scaled down if needed. All imprint sizes are located in the item description throughout the catalog and website.

Artwork for Pens
Artwork should be as simple and clear. Below are examples of acceptable and unacceptable artwork.
UNACCEPTABLE: Vital information will be too small and illegible.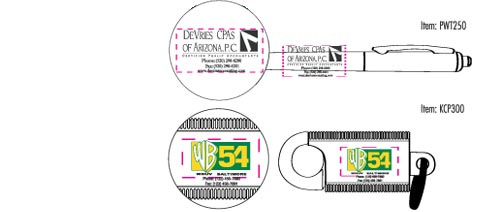 ACCEPTABLE: Artwork is clear and legible.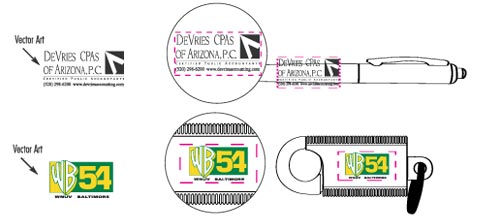 Artwork Formats
Art formats are available on each product page by clicking the "Art Format" link. Each art format package may contain one or more .pdf files depending on which production types are available to the item.
Please be sure you are referencing the correct file. You may contact customer service for assistance if you are unsure.
To view the .pdf file format you must have an appropriate viewing application. Adobe reader is the standard and available for free at get.adobe.com/reader
Art for Chocolate Molds
Supply solid black line art (black areas of art will be raised on chocolate). No color gray scale or half-tone screens will be accepted. Smallest type size that can be clearly reproduced is 9 points Sen Serif and 10 points Serif. If vector art cannot be supplied, please supply a solid black high resolution bit map TIFF (at least 600 dpi at desired size). $99.00(G) standard mold charge. 3D molds will be quoted on a per job basis
Templates
Artwork templates can be found by visiting our Art Template page.
Storage
Artwork is kept for 18 months following shipment of your order.
FOR ADDITIONAL ARTWORK SPEC INFO, PLEASE SEE TEMPLATES FOR THAT SPECIFIC ITEM