Mug & Neoprene Coaster Gift Set
Item #DRB6002
Supplied by: Lanco
| DRB6002 | 72 | 108 | 288 | 576 | |
| --- | --- | --- | --- | --- | --- |
| Price | $15.48 | $14.61 | $13.15 | $11.69 | 4C |
Absolute Minimum Order Quantity: 36
USD
Sold by the: PIECE
*Must be ordered in increments of 36.
Mug with neoprene coaster gift set. The see-through acetate box lets your logo and message stand out. Put your organization, business or event artwork front and center on the mug for a memorable token of appreciation that can be used over and over.
11oz full color ceramic mug. Hand wash only.
Acetate box.
Neoprene drink coaster.
Choose a color for background display.
See template for text box for your display card.
*must be ordered in increments of 36*
Production Time:
7 Business Days
Imprint Area:
Box: 5 1/4" L x 5 1/4" W / Chocolate: 1 3/4" W x 1 3/4"H
Setup Charge: $100(G). Re-Order Setup: $40(g)
Warm Weather Shipping: If this is a meltable item, when the temperature reaches 75 degrees F. we will ship your order in insulated containers with ice packs. The product will remain cool for 2 full days. Expedited shipping is required for locations beyond a 2 day ground ship zone. We will use either refrigerated trucking or insulated cartons. We will select the least expensive method. For insulated cartons, please add $15.00(G) (USD) / $16.50(G) (CAD) per carton. When cost effective, a larger carton can be used please add $25.00(G) (USA) / $27.50(G) (CAN) per carton.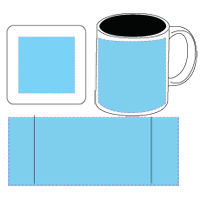 Carton Dimensions:
20x18x13 inches
Ship Wt per Carton:
25 lbs.
Overview
Details
Ordering
Shipping