15 oz. Camping Mug S'mores Kit
Item #DRB312
Supplied by: Lanco
| DRB312 | 72 | 108 | 288 | 576 | |
| --- | --- | --- | --- | --- | --- |
| Price | $10.22 | $9.84 | $9.61 | $9.37 | 4C |
Absolute Minimum Order Quantity: 36
USD
Sold by the: PIECE
15oz camping mug with smores. Hand wash only.
1 .20 oz chocolate square
2 half marshmallows
1 graham cracker (broken in half)
*Unless otherwise requests, a protective box charge $6.10(g) USA / $7.95(g) CAN applies to all ceramic mug packages.
*must be ordered in increments of 36*
Size:
3 1/2" W x 3 1/2" H
Production Time:
7 Business Days
Imprint Area:
2 1/4" W x 2 1/4" H
Color Options:
Black, Cobalt, Maroon, Orange, Red, Sand, White, White/Red
Setup Charge: $50(g). Re-Order Setup: $30(g)
Warm Weather Shipping: If this is a meltable item, when the temperature reaches 75 degrees F. we will ship your order in insulated containers with ice packs. The product will remain cool for 2 full days. Expedited shipping is required for locations beyond a 2 day ground ship zone. We will use either refrigerated trucking or insulated cartons. We will select the least expensive method. For insulated cartons, please add $15.00(G) (USD) / $16.50(G) (CAD) per carton. When cost effective, a larger carton can be used please add $25.00(G) (USA) / $27.50(G) (CAN) per carton.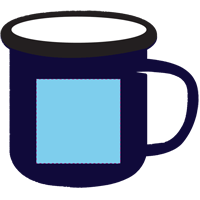 Carton Dimensions:
17x21x12 inches
Ship Wt per Carton:
53 lbs.
You Might Also Like...
$33.42 - $36.47

$38.76 - $39.76

$33.58 - $35.39

$32.19 - $33.58

$4.73 - $5.34

Click for product pricing

$35.00 - $38.24
Overview
Details
Ordering
Shipping